Brushing Guide and Information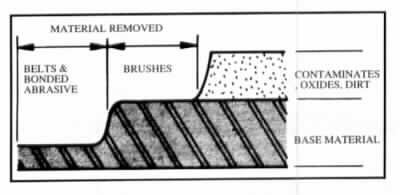 ---
Typical Power Brush Applications
Deburring Power brushes are widely used to remove burrs created by other machining operations. Power brushes can completely remove burrs without creating secondary burrs or leaving two sharp edges. Unlike grinding tools, brushes are selective to an edge; they will remove the burr but none of the base material.

Surface Finishing Power brushes are excellent tools for improving surface finishes to gain a desired appearance. Brushes do not remove the base metal. They remove only the metal particles left on surfaces which have been ground or abrasive polished. Power brushing also tends to relieve stress created by other machining operations. Many different surface finishes can be obtained by using power brushes.

Edge Blending Power brushes are ideal for developing a rounded corner at the juncture of two surfaces. Power brushes perform this application without removing material on the surface adjacent to the edge or changing the part tolerance. This reduces stress concentration and part fatigue, increases part life and improves the surface finish.

Roughening Power brushes are uniquely suited for creating better bonds on surfaces such as rubber, leather plastics and nonferrous metals. Surfaces can be roughened prior to painting or bonding to achieve better adhesion.

Cleaning Power brushes are distinctly suited for removal of surface film, dirt, rust, heat treat scale, weld slag, corrosion and paint. Power brushes also remove varnish and insulation from electrical wire, motor stators, etc. fiber, synthetic and fine stainless steel brushes can be used for wet-cleaning operations.



Advantages of Power Brushes
Rugged Construction The only surface cleaning and conditioning tool tough enough to stand up under prolonged, heavy use.

Easy on Equipment Brushes are non-abrasive so they do not produce equipment-destroying abrasive dust.

True Selective Cutting Brushes act as an impact tool removing surface contamination with millions of tiny hammer blows without cutting away any base material as abrasives will.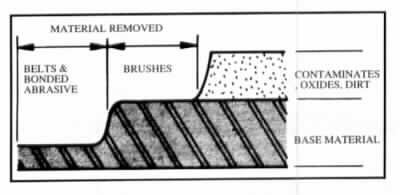 Stress Relieving and Surface Conditioning Brushing action produces the same effect as shot peening (a method used to increase the life of highly stressed parts in aircraft and race cars) without adding extra operations Brushing will not change part tolerances.

Brushes Are Non-loading Unlike non woven, bonded and coated abrasives, brushes will not load when brushing soft materials.

Use Brushes Instead of:

Abrasive Belts

Non-Woven Nylon Products which wear rapidly

Sand Blasting

Steel Wool

Buffing Wheels

Harsh Chemicals

Hand Filing

Hand Sanding

Tumbling or Vibratory Finishing

Grinding Wheels

Power Brush Types
Wheel Brushes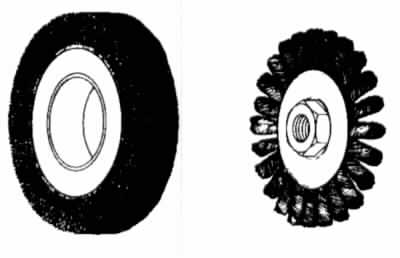 Are circular in shape and generally no wider than 2". Standard wheel brushes range from 5/8'' to 15'' in diameter and may be filled with material such as: Steel, Stainless Steel, Brass, Bronze and Nickel Silver Wires; Natural Fibers such as Tampico and Animal Hair, and Synthetics such as Nylon, Abrasive Filled Nylon and Polypropylene. There are two basic forms of wire used in wheel brushes - Crimped Wire for flexibility and Straight Wire for knot type for more aggressive brushing action.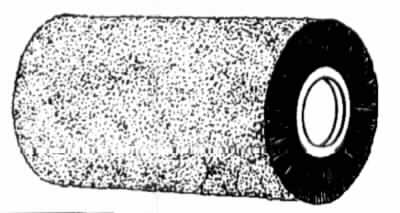 Wide Face Brushes Are identified as brushes where the face is greater than the diameter. This type of brush can be created by stacking a number of wheel brushes on a common arbor. Wide face unit brushes are generally specially designed for a specific customer application.



Cup Brushes Are available in three basic types: Miniature 3/8" - 1" diameter (stem-mounted), Crimped Wire Types 1 3/4" - 6" diameter for lighter jobs and Knot Type 2 1/2" - 6" diameter for heavy duty jobs requiring aggressive brushing action. These brushes are generally filled with wire or abrasive filled nylon and used on portable power tools.



Tube Brushes Are generally twisted-in-wire types for use on portable tools and drill presses to clean and finish holes and internal threads. Series 84 Diameters range from 1/8" - 3" . Series 81,82 diameters range from .024" to 1/2".


Stem Mounted Brushes Are generally used in portable air and electric tools for light to heavy duty work where space is limited. Diameters range from 1/2" - 4". End, Wheel and Cup brushes, crimped wire and knot type, are permanently mounted on a 1/4" steel shank.


Special/Custom Designed Brushes
Our Engineering department takes pride in solving customers' special application problems. If one of our hundreds of standard stock brushes does not completely satisfy a customer's application, special brushes can be designed to meet the required specifications. Brush types and size ranges are virtually infinite to meet the challenges of industry
Mounting Power Brushes
Select a brush which is compatible with the horsepower of the machine.

Select the largest diameter brush which will fit on the machine with all guards in place.

Make sure all guards are in place before starting the machine.

Size and Density
1. Largest diameter brush which equipment will handle is generally most efficient.
2. At a given spindle speed (R.P.M.) a larger brush has a higher surface speed (S.F.P.M.).
3. 8" diameter is maximum generally recommended for use on portable tools.
4. The larger the center plate, the more wire ends that can be made available on the cutting perimeter.
5. Short trim and dense fill is very fast cutting.
6. Long trim is more flexible and best for contacting irregular surfaces or removing surface particles.