To ensure the proper tools for the job, Chapman offers a selection of 11 kits in both soft and hard pack cases, plus a wide range of open stock adapters. The soft pack cases are snap fastened, soft vinyl, with individual pockets for the adapters. The hard pack cases are custom molded, rugged polypropylene, with an easy snap latch and individual slots for the adapters
These kits are designed to meet the needs of a broad customer base for industrial assembly, commercial services and the precision hobbyist, yet they allow you to easily customize a kit by selecting additional adapters as you see fit.

Our product line up includes: Ratchet, Extension, Handle,and nine Adapter head styles. These are available individually or as pre-packaged Kits, suitable for a wide range of tasks. The adapters can easily be reground to a special shape by the customer for specialized applications.
All materials used in our products are 100 % made and assembled in the United States.
The heart of the Chapman Tools is the precision ratchet, part No. CHAP.CM-13. This high quality, miniature tool with a twenty tooth ratchet is made of stainless steel. It far exceeds the torque standards set by Military Specifications. Having a short 18 degree working arc, it is unbeatable for working in close quarters (ratchet dimensions shown below). Dependable and fast acting (easy one handed in and out adapter changes), it easily drives Slotted, Square, Phillips, Allen Hex type, Reed and Prince, Bristol (6-flute multi-spline) and TORX fasteners. Used with the 1/4" square drive adapter, it also accommodates 1/4" square drive sockets. Reverse action is obtained by simply tuning the ratchet over. Complimenting the ratchet is the stackable extension and screwdriver handle.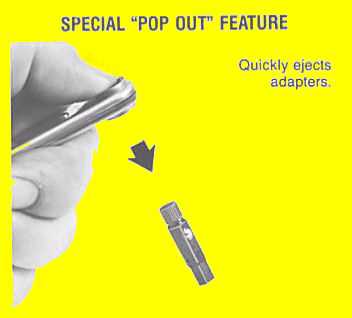 CHAP.CM-13 Ratchet

The Screw Driver Handle ( part no. CHAP.CMH-3 ) is designed for comfortable, quick turning of fasteners while offering a precise feel for final tightening. CHAP.CMH-3 W/SS Screw Driver Handle with a set screw in the barrel is used to lock in an adapter or the extension.
The handle, extension and ratchet combination can be used as show below, which allows for quick setting of the fastener and the final torque advantage of the ratchet. An unbeatable combination.

---
CHAP.CME-1
The improved Extension with lower stop 'ears' and set screw is designed for greater versatility as shown below. The extension can be used alone with either the ratchet or screwdriver handle. Extensions can be stacked together for a longer reach. A set screw in the barrel is used to lock in the adapter bit or another extension.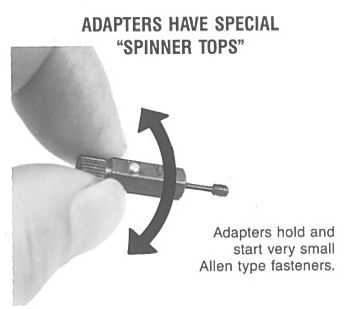 Chapman versatile Adapters are constructed of the highest quality Chrome Nickel Molybdenum Alloy Steel and precision made to ensure a proper fit. Their dual purpose knurled Spinner Tops allow for quick finger tightening of threads and for instant "push down" removal of the adapter from the ratchet. Ball-detents plus 'ear' stops quickly position and secure each adapter in the ratchet, the extension, or the screwdriver handle.
Since these adapters are very economical, you may choose to customized the shape of any adapter for a specialized job. Chapman adapters are constructed of fully hardened tool steel, so when grinding these adapters remember they must be kept below 400°F to retain their hardness.

---
Adapters are available in these head styles: Allen Hex Type sizes; Metric Hex Type sizes; Phillips Head; Slotted Head, Bristol 6-flute Multi-spline; Reed and Prince; Square Head; TORX and Gunsmith Specialty Slotted. In addition, the 1/4" Square adapter is used to drive your standard sockets.
Adapters are available in pre-packaged kits for a specific style of fastener and as individual adapters (referred to as open stock). Dimensional specifications for each family of adapters can be found under Product Specs in the contents.