Multi-Size Inflatable Pipe Plugs / Flow Stoppers
Multi-Size Inflatable Pipe Plugs / Flow Stoppers
COB Industries now offers Multi-Size Inflatable Stoppers in a larger range of sizes with the NEW MLS (Stoppers) and FXBP (Bypass Plug) models. MLS and FXBP Plugs offer versatility, flexibility and durability with reinforced ozone protected natural rubber construction*. These plugs are extremely popular in all types of construction, water and sewer, and pipeline maintenance applications.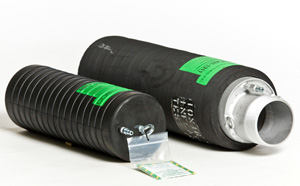 COB MLS and FXBP Plugs are made in the USA and usually in stock up to 60", with larger sizes usually available within a week or two. *Also available in Nitrile and Neoprene for specialty applications.
COB Advantages
Used as a block plug, a water/air test plug, or leak locating back plug
Can be floated down pipe and stopped at desired location to prevent going down a manhole for installation or removal.
Grows shorter as it inflates to put less stress on plug.
Multi Sized Inflatable Stoppers
Part #
Range Inches
Min
Inches
Max Inches
Infl Pressure PSI
Back Pressure PSI
Length Inches
Weight (Lbs)
Bypass inches
COB.MLS 1.5/2.8 (35/70)
1.4 – 2.8
1.3
2.8
45
34
8.3
1
N/A
COB.MLS 02/04 (50/100)
2 – 4
1.8
4
45
34
7.9
1.1
N/A
COB.MLS 03/06 (70/150)
3 – 6
2.6
6
45
34
14.6
1.4
N/A
COB.MLS 04/08 (100/200)
4 – 8
3.5
8
45
19
21.65
5
N/A
COB.MLS 06/12 (150/300)
6 – 12
5.5
12
45
19
21.65
8
N/A
COB.MLS 08/16 (200/400)
8 – 16
7.3
16
45
19
25.6
9
N/A
COB.MLS 12/24 (300/600)
12 – 24
11.3
24
45
19
33.5
21
N/A
COB.MLS 15/30 (375/750)
15 – 30
14.2
30
45
19
39.4
35
N/A
COB.MLS 20/40 (500/1000)
20 – 40
19.1
40
45
14.5
45.3
51
N/A
COB.MLS 24/48 (600/1200)
24 – 48
23
48
45
14.5
51.2
93
N/A
---
Multi Sized Inflatable Bypass Plugs
Part #
Range Inches
Min
Inches
Max Inches
Infl Pressure PSI
Back Pressure PSI
Length Inches
Weight (Lbs)
Bypass inches
COB.FXBP 02/04 (50/100)
2 – 4
1.8
4
30
26
12.9
2.6
1/2 or 1
COB.FXBP 03/06 70/150
3 – 6
2.6
6
30
26
15.75
3.3
1-1/2
COB.FXBP 04/08 100/200
4 – 8
3.5
8
30
11
19.7
5.7
2
COB.FXBP 06/12 150/300
6 – 12
5.5
12
30
11.5
22.85
9.9
2
COB.FXBP 08/16 200/400
8 – 16
7.3
16
30
11.5
26.8
18.7
2
COB.FXBP 12/24 300/600
12 – 24
11.3
24
30
11.5
33.5
41
3
COB.FXBP 15/30 375/750
15 – 30
14.2
30
30
14.5
39.4
81
4
COB.FXBP 20/40 500/1000
20 – 40
19.1
40
30
14.5
47.5
121
4
COB.FXBP 24/48 600/1200
24 – 48
23
48
30
13
55.2
132
4
COB.FXBP 30/60
30 – 60
26
60
30
13
102.5
253
6
FXBP 40/80
40 – 80
39.5
80
30
13
122
520
6
***This product is also available in a more chemical resistant nitrile rubber quality