Port Contour Tools (SAE) AS1300
for Rosan Cavity PS-10035
Order on Line
RPT port tools cut the rosan cavity per AS1300 specification.
Another name for this port is PS10035
They are designed to enlarge a pre-drilled hole and easily produce a complex form.
Port Tools are ground between centers to ensure absolute concentricity.


They are made from heat-treated alloy steel with brazed carbide inserts.


Port Tools can be used for both lathe and mill applications.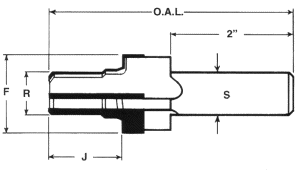 Reamer Pilot
Port Tools
(SAE) AS1300 for Rosan
Cavity PS-10035
| | | | | | | | |
| --- | --- | --- | --- | --- | --- | --- | --- |
| S | F | R | J | O.A.L. | TUBE | THREAD | PART NUMBER |
| 3/8" | .382 | .184 | .610 | 4.000 | 1/8" | .216"-28 | RPT-2 |
| 3/8" | .449 | .218 | .670 | 4.000 | 3/16" | 1/4"-28 | RPT-3 |
| 1/2" | .496 | .275 | .700 | 4.000 | 1/4" | 5/16"-24 | RPT-4 |
| 1/2" | .602 | .337 | .725 | 3.480 | 5/16" | 3/8"-24 | RPT-5 |
| 1/2" | .676 | .392 | .785 | 3.530 | 3/8" | 7/16"-20 | RPT-6 |
| 1/2" | .785 | .511 | .850 | 3.850 | 1/2" | 9/16"-18 | RPT-8 |
| 1/2" | 1.016 | .650 | .810 | 3.810 | 5/8" | 11/16"-24 | RPT-10 |
| 1/2" | 1.140 | .767 | .950 | 4.200 | 3/4" | 13/16"-20 | RPT-12 |
| 3/4" | 1.428 | 1.073 | 1.015 | 4.260 | 1" | 1 1/8"-18 | RPT-16 |
| 3/4" | 1.751 | 1.261 | 1.020 | 4.520 | 1 1/4" | 1 5/16"-18 | RPT-20 |