Flexbar Sander \ Grinder guards
pivot mount grinder | grinder guard deluxe | belt/disc grinder


PIVOT MOUNT GRINDER GUARD
AND UNIVERSAL SHIELD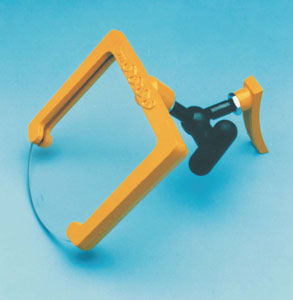 Heavy-duty swivel-lock positioning shield protects operator from flying grit and debris. Cast frame with virtually unbreak-able 3/16" thick Lexan® shield will contain and deflect any wheel breakage.

One standard frame with a choice of three sizes of interchange-able Lexan® shields will provide protection for grinding and buffing wheels up to 14". An extra heavy-duty steel pivot with locking knob connects the frame to the curved adjustable mounting bracket.
Made in U.S.A.
Each model supplied complete with frame, Lexan® shield and pivot mount hardware. Replacement shields available (see chart).

Model No.
For Bench Grinders
Shield Size
FLEX.13040
6", 7", 8"
5 ½" x 5 ¾"
FLEX.13041
8", 10"
6 ½" x 8 ½"
FLEX.13042
10" and up
12 ¾" x 11"
FLEX.13043
Lexan® Replacement shield for FLEX.13040
FLEX.13044
Lexan® Replacement shield for FLEX.13041
FLEX.13045
Lexan® Replacement shield for FLEX.13042
FLEXBAR GRINDER GUARD DELUXE ™
Heavy-Duty Lexan® Shield (3/16" thick) Guards Against Wheel Explosions!


Designed to fit virtually all pedestal and bench grinders as well as buffers and speed lathes.

Fits Grinder/Buffer wheel diameter from 6" to 14"

ALL UNITS INCLUDE:
A) 2 Curved Shield Assemblies
B) Vertical Post Assembled With 2 Mounting Brackets
C) 2 Each, 1 inch wide standoffs with hex head bolts and washers
D) 1 Vertical Mounting Bracket


*On Single Shield Models:
A) 1 Each Curved Shield
B) Vertical Post Has One Mounting Bracket
C) Same as above
D) Same as above

Shown Above: Pedestal Mount Grinder Guard Deluxe with
adjustable mounting hardware.
PEDESTAL MOUNT MODELS- ORDERING:
GRINDER/BUFFER
WHEEL DIAMETER
WITH SINGLE SHIELD*
MODEL NO
WITH DOUBLE SHIELDS
MODEL NO.
6" or 7"
FLEX.13390-S
FLEX.13390-D
8"
FLEX.13391-S
FLEX.13391-D
10" & 12"
FLEX.13392-S
FLEX.13392-D
14"
FLEX.13393-S
FLEX.13393-D
* Please specify "Left Mount" or "Right Mount" on Single-Shield Models. Single Shield Models are listed for Single-Wheel Buffers, etc., which are in existence.
Belt/Disc Sander Guards

Protects User from Unused Portion of Belt/Disc

· Easily Adjustable
· Upper & Lower Guards Available
Model No. FLEX.13382, Upper Belt Sander Guard
Model No. FLEX.13383, Lower Belt Sander Guard
Model No. FLEX.13384, 12" Disc Sander Guard
Model No. FLEX.13385, 16" Disc Sander Guard
Spindle Sander Guards


Upper and Lower
Guards Available

Drill Press Belt/Pulley Guard


Many styles Available for Top Covers & Lower Motor Guards

Model No. FLEX.13386, 6" x 11" Floor Mount Spindle Sander Guard
Model No. FLEX.13387, 6" x 11" Base Mount Spindle Sander Guard
Model No. FLEX.13388, 6" x 11" Bench Mount Spindle Sander Guard
Model No. FLEX.13389, 4" x 7" Bench Mount Spindle Sander Guard
Model No. FLEX.13378, Top Cover Guard
Model No. FLEX.13379, Lower Motor Guard