RUBBER-FLEX® COLLETS
Jacobs® Rubber-Flex® collets outperform conventional split-steel collets in gripping power, accuracy and durabilty.
Unique in design and operation, the Jacobs® Rubber-Flex® Collet can generate two to three times the gripping power of a conventional split-steel collet.

Gripping force is uniform and parallel throughout the collet contact length and not concentrated at the nose or back as is frequently in the with split-steel collets ( see illustration below). Construction is of durable synthetic rubber compound permanently bonded to hardened steel jaw insert surfaces and through-hole. It is unaffected by heat, coolants and cutting compound and retains its flexibility over a long service life as compared to spring tempered metal designs.


RUBBER-FLEX® COLLETS VS CONVENTIONAL COLLETS

| | | |
| --- | --- | --- |
| | | |
Conventional split-steel collets provide maximum gripping
efficiency only at actual bored or nominal capacity.
They loose parallelism when chucking bars even a few
thousandths over or under this capacity.
This significantly reduces gripping strength and accuracy.
Rubber-Flex® Collets exert uniform gripping pressure throughout the collet contact length (within individual collet capacity ranges) regardless of bar tolerance deviations
Features
•Parallel jaw insert surfaces exert uniform, accurate gripping force up to three times greater than can be achieved with split-steel collets

• Each collet accepts and precisely centers a wide range of both decimal or metric diameters
(within individual capacity ranges) to speed setups and increase machining productivity

• Durable one-piece construction.. Synthetic rubber retains flexibility and resists deterioration from heat, coolants and cutting compounds

• Steel jaw inserts precision ground (after molding process) to assure maximum gripping accuracy (parallelism)> Hardened for greater wear resistance than split-steel collets

• Each collet bore is held concentric to the O.D. tapers, both front and back, to minimize TIR

• Automatically seals tool O.D. to permit coolant flow through tool reducing wear

• Seals collets and machine spindles to protect from abrasive particles and swarf




Lathe Chuck Collets


• Collets JAC.J910, JAC.J911 and JAC.J912 have a contact length of .90" (23 mm)
• All other lathe chuck collets have full length contact
Lathe Chuck Collets
Model No
Capacity Range
Contact
Cone
Outside
Clearance
No. of inserts
Weight (oz.)
Min
Max (A)
Length (B)
Angle (C)
Dia. (D)
Diameter (E)
(in)
(mm)
(in)
(mm)
(in)
(mm)
(deg)
(in)
(mm)
(in)
(mm)
JAC.J910
0.060
1.5
0.125
3.2
1.74
44.5
26
2.25
57
0.60
15.2
4
0.53
JAC.J911
0.125
3.2
0.250
6.4
1.74
44.5
26
2.25
57
0.60
15.2
6
0.53
JAC.J912
0.250
6.4
0.375
9.5
1.74
44.5
26
2.25
57
6
0.47
JAC.J913
0.375
9.5
0.500
12.7
1.74
44.5
26
2.25
57
8
0.47
JAC.J914
0.500
12.7
0.625
15.9
1.74
44.5
26
2.25
57
10
0.47
JAC.J915
0.625
15.9
0.750
19.1
1.74
44.5
26
2.25
57
10
0.47
JAC.J916
0.750
19.1
0.875
22.2
1.74
44.5
26
2.25
57
12
0.47
JAC.J917
0.875
22.2
1.000
27.9
1.74
44.5
26
2.25
57
16
0.55
JAC.J918
1.000
25.4
1.125
28.6
1.74
44.5
26
2.25
57
20
0.52
JAC.J919
1.125
28.6
1.250
31.8
1.74
44.5
26
2.25
57
24
0.43
JAC.J920
1.250
31.8
1.375
34.9
1.74
44.5
26
2.25
57
24
0.40
JAC.J921*
1.375
34.9
1.500
38.1
1.74
44.5
26
2.25
57
24
0.27
*requires special 1-1/2" nose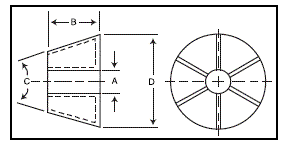 TAP CHUCK COLLETS
Model No
Capacity Range
Contact
Cone
Outside
No. of inserts
Weight (oz.)
Min
Max (A)
Length (B)
Angle (C)
Dia. (D)
(in)
(mm)
(in)
(mm)
(in)
(mm)
(deg)
(in)
(mm)
JAC.J116
0.094
2.4
0.177
4.5
0.468
11.9
26
0.590
15.1
6
0 .10
JAC.J117
0.177
4.5
0.256
6.5
0.468
11.9
26
0.590
15.1
8
0.10
JAC.J420
0.176
4.5
0.320
8.1
0.500
12.7
40
0.941
23.9
6
0.20
JAC.J421
0.139
3.5
0.257
6.5
0.500
12.7
40
0.941
23.9
6
0.20
JAC.J422
0.253
6.4
0.383
9.7
0.500
12.7
40
0.941
23.9
6
0.30
JAC.J423
0.090
2.3
0.090
4.6
0.500
12.7
40
0.860
21.8
4
0.30
JAC.J440
0.280
7.1
0.500
12.7
0.630
16.0
45
1.296
32.9
6
0.30
JAC.J441
0.176
4.5
0.383
9.7
0.630
16.0
45
1.296
32.9
6
0.30
JAC.J443
0.110
2.5
0.280
7.1
0.620
15.7
45
1.180
30.0
4
0.30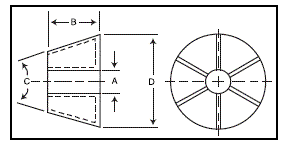 Die Grinder COLLETS
Model No
Capacity Range
Contact
Cone
Outside
No. of inserts
Weight (oz.)
Min
Max (A)
Length (B)
Angle (C)
Dia. (D)
(in)
(mm)
(in)
(mm)
(in)
(mm)
(deg)
(in)
(mm)
JAC.J116
0.094
2.4
0.177
4.5
0.468
11.9
26
0.590
15.1
6
0.10
JAC.J117
0.177
4.5
0.256
6.5
0.468
11.9
26
0.590
15.1
8
0.10