OZAT Impact Sockets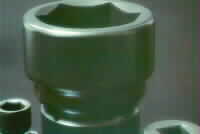 OZAT IMPACT SOCKETS are especially designed for duty impact workload. The highly accurate electro-chemical process enables the machining of any steel, regardless of its hardness and mechanical qualities.

While other manufacturers using Conventional machining methods have to compromise in choosing the metal, OZAT uses the most suitable impact-resistance steel.

OZAT IMPACT SOCKETS are distinguished by the contacts between the nut or bolt and the socket, being on the flank's center and not at the corners. This prolongs the life of the sockets and fasteners, while leaving the corners of the sockets, nuts and bolts in their original shape. Better power distribution is achieved by OZAT flank-driven sockets, thus lowering tool wear. Higher operating torques are accomplished, since power transfer has been taken away from critical points.

OZAT IMPACT SOCKETS are manufactured to American Federal specs GGG-W-660, America National STD ANSI B107, DIN standards 3121 3129, but at much closer tolerances. Recent tests have shown that due to their special qualities OZAT Sockets last longer than any other brand known today. OZAT Sockets come in inch, metric and whit (Br.) sizes, from1/2" to 3-1/2" square drive, No. 5 spline drive, all having black finish. Special orders far various socket sizes, shapes and quantities are custom-made to customer's specific requirements.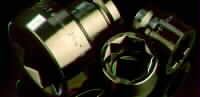 SUPER HEAVY DUTY SLUGGING WRENCHES
link to offset box type web page link to flat box type web page heavy duty structural
OFFSET TYPE WITH CLEARANCE
Designed for use where extra tightness is needed or where shock or impact is needed to loosen frozen or rusted nuts or fasteners.


Hot forged from special alloy steel and scientifically heat treated for maximum strength.


Large striking surface for surer blow contact and more efficient transmittal of force to fastener.


Each wrench clearly marked with size and part number


Deep box head for full engagement of fastener.


Finished in rust-resistant black oxide.


All openings broached.


Nominal Openings from 27 to 76mm, 1-1/16" to 3-1/8"

FLAT TYPE BOX WRENCHES
Designed for heavy use in close quarters where hammer or sledge is required to loosen frozen nuts or set large fasteners.


High strength rectangular design withstands heavy slugging; transmits power more effectively to fastener.


Special alloy steel is hot forged and heat treated for maximum strength and toughness.


Heavy box walls provide greater transmission of torque to fastener.


Each wrench clearly marked with size and part number


Deep box head fully engages fastener.


Straight handle design resists springing, nut turns easier


Finished in rust resistant black oxide.


All openings broached.


nominal openings from 22 to 100mm, 7/8" to 4"
HEAVY DUTY OFFSET STRUCTURAL WRENCHES
DROP FORGED FROM HIGH GRADE SELECT STEEL.


LONG HANDLE PROVIDES GOOD LEVERAGE AND ALLOWS ADEQUATE CLEARANCE FOR KNUCKLES.


HARDENED TAPERED HANDLE ALIGNS BOLT AND RIVET HOLES.


EACH WRENCH CLEARLY MARKED WITH SIZE.


FINISHED IN RUST-RESISTANT BLACK OXIDE


available in 1/2" to 2-1/2 "