Order on Line

Port Contour Cutters -Solid Pilot
SAE J1926 Tools to Replace MS16142 Port Tools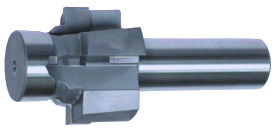 MS16142-S (SAE J514) (SAE J1926 )O-Ring Boss - Solid Pilot
Port Contour Cutters
Port Tools are ground between centers to ensure absolute concentricity.


They are made from heat-treated alloy steel with brazed carbide inserts.


They are designed to enlarge a pre-drilled hole and easily produce a complex form.


Port Tools can be used for both lathe and mill applications.
MS16142 solid pilot port tool.
With the solid pilot tool, the minor diameter must be cut to size before the tool can be used.
This tool excels when the thread depth
deviates from standard.
Other names for this port are SAEJ1926, SAEJ514, and the O-Ring Boss (ORB)
MS16142-S(SAE J514) (SAE J1926 )O-Ring Boss - Solid Pilot



ORDER #
K
D
E
F
P
J
L
S
O.A.L.
TUBE
THREAD
12
.3605
.082
.682
.270
.430
2.00
.500
3.00
.125
.3125-24UNF-2B
12
.4235
.082
.760
.331
.470
2.00
.500
3.00
.188
.375-24UNF-2B
12
.4895
.101
.838
.385
.520
2.00
.500
3.12
.250
.4375-20UNF-2B
12
.5525
.101
.916
.448
.560
2.00
.500
3.12
.312
.500-20UNF-2B
12
.6185
.105
.979
.504
.600
2.00
.500
3.25
.375
.5625-18UNF-2B
15
.8135
.108
1.198
.685
.660
2.12
.750
3.57
.500
.750-16UNF-2B
15
.9445
.108
1.354
.801
.750
2.12
.750
3.66
.625
.875-14UNF-2B
15
1.1505
.138
1.635
.975
.800
2.12
.750
3.75
.750
1.0625-12UN-2B
15
1.2755
.138
1.775
1.101
.800
2.25
1.000
4.00
.875
1.1875-12UN-2B
15
1.4005
.138
1.920
1.225
.850
2.25
1.000
4.05
1.000
1.3125-12UN-2B
15
1.7155
.140
2.280
1.537
.900
2.25
1.000
4.20
1.250
1.625-12UN-2B
15
1.9645
.140
2.570
1.787
.900
2.25
1.000
4.20
1.500
1.875-12UN-2B
15
2.5895
.140
3.490
2.412
.950
2.50
1.250
4.60
2.000
2.500-12UN-2B