BALL BEARING "V" BLOCK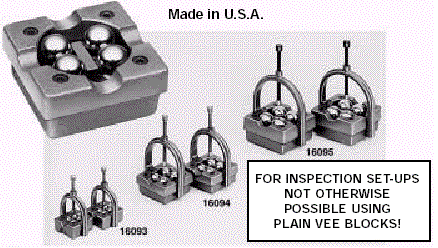 ENABLES YOU TO INSPECT AND DETECT OUT-OF-ROUND CONDITIONS
AND LOBES WITH NO DAMAGE TO PARTS AND NO DAMAGE TO BLOCKS
SPECIAL FEATURES:
• Accuracy of Balls: 25 millionth of an inch sphericity on small and medium
set. 50 millionths of an inch on large set.
• Overall accuracy of matched pairs ±5 microns.
• Balls Rockwell C-62 — Surface finish 0.2 microinches.
• Calibrated balls are certified.
• Class 40 cast iron, used on base and housing, is heat stabilized and
seasoned.
• Spacers are hardened through and precision ground by pairs.
• Pair of blocks assembled using metrology equipment.
AVAILABLE IN 3 SIZES WITH RANGES OF: 3/64"-2-1/2"; 3/32"-5"; 3/16"-10" AND UP.
SOLD IN MATCHED PAIRS COMPLETE WITH CLAMPS (for use when machining).
SIZE
INSPECTION CAPACITY
DIAMETER OF BALLS
WT. CAPACITY OF PAIR
WORK CAPACITY W/CLAMPS
Small Pair
3/64" to 21/2"
1/2"
220 lbs.
1-1/4"
Medium Pair
3/32" to 5"
15/16"
1,100 lbs.
2-1/2"
Large Pair
3/16" to 15"
1-1/2"
2,000 lbs
3"
BALL BEARING "V" BLOCK

Overcomes Production or Set-Up Difficulties Inherent in Plain V-Blocks.
Overcomes Geometric Limitations.

SPECIAL FUNCTIONS:
• Balls undergo slight elastic deformation when parts are loaded on. Hence
parts will not be damaged while being inspected or produced.

• Detection of lobes and superimposed lobes made easy.

• Easy readjustment of balls which provide new bearing points.
• Handles diameters up to 15 inches.

• Increased contact area due to special geometric spacing of balls in blocks.

• 8 contact points per pair of blocks share load distribution.

• Balls are self-aligning and hard wearing.

• 1 each precision spacer per block provides 2 different angles per pair.

• Simply turn each block 90° and inspect component using both angles.

• Special inspection set ups using cylinder squares now possible.

IMPORTANT NOTE:
BALLS ARE FIXED IN BLOCKS AND ARE NOT DESIGNED TO ROTATE IN USE.
Available with Clamps or Without
ORDER
NO.
ORDER-DESCRIPTION-BALL-BEARING "V" BLOCKS
FLEX.16097
PAIR BLOCKS, 2" x 2" x 1" (without clamps) & TEST BALL
FLEX.16098
PAIR BLOCKS, 3-3/8" x 3-3/8" x 1-3/8" (without clamps) & TEST BALL
FLEX.16099
PAIR BLOCKS, 4-3/4" x 4-3/4" x 2-3/8" (without clamps) & TEST BALL
FLEX.16123
PAIR CLAMPS, For No. FLEX.16097
FLEX.16124
PAIR CLAMPS, For No. FLEX.16098
FLEX.16125
PAIR CLAMPS, For No. FLEX.16099
FLEX.16067
SPARE BALLS, Set of 4, For No. FLEX.16097 or FLEX.16093
FLEX.16068
SPARE BALLS, Set of 4, For No. FLEX.16098 or FLEX.16094
FLEX.16069
SPARE BALLS, Set of 4, For No. FLEX.16099 or FLEX.16095
FLEX.16093
PAIR BLOCKS, 2" x 2" x 1" (Complete with clamps & TEST BALL)
FLEX.16094
PAIR BLOCKS, 3-3/8" x 3-3/8" x 1-3/8" (Complete with clamps & TEST BALL)
FLEX.16095
PAIR BLOCKS, 4-3/4" x 4-3/4" x 2-3/8" (Complete with clamps & TEST BALL)