Carbide Tipped Straight Shank Chucking Reamers
TYPE 3400 -- STRAIGHT FLUTES & STRAIGHT SHANK -- FRACTIONAL SIZES

Straight shank and straight polished flutes.
Carbide tips brazed to one piece hardened tool steel bodies.
Cutting diameter tolerance plus .0003" minus .0000".
USE:

For all general reaming of steel, cast iron, non-ferrous metals, plastics and non-metals.
OPTIONS

Intermediate decimal & metric sizes (as indicated in extended table below).
Closer tolerances (see table below).
Cutting diameter reduced for small steps or pilot.
Radius end or end chamfer other than 45º.
End cutting.
Rose grind (twice normal back taper).
Short shank or undersize shank diameter.
Flat on shank or tanged shank.
Semi-finished type reamers in stock
EXACT DECIMAL SIZE REAMERS -
+ .0002" tolerance .
+ .0001" tolerance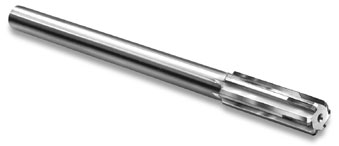 order by R1531-"size"
Tool
Diameter
Dimensions
Finished To Modified Tool Diameter
Shank Diameter
No. of Flutes
Length
Modified Diameter Range
Frac.
Dec.
Flute
Carbide
Overall
Low
High
5/32
.1562
.151
4
1
1/2
4
.1560
.1769
11/64
.1719
.151
4
1
1/2
4
-
-
3/16
.1875
11/64
4
1 1/8
1/2
4 1/2
.1770
.2040
3/16
.1875
11/64
4
1 1/4
1/2
5
.1770
.2040
13/64
.2031
11/64
4
1 1/8
1/2
4 1/2
-
-
7/32
.2188
13/64
4
1 1/4
1/2
5
.2041
.2210
15/64
.2344
7/32
4
1 1/2
1/2
6
.2211
.2380
1/4
.2500
15/64
4
1 1/2
1/2
6
.2381
.2530
17/64
.2656
15/64
4
1 1/2
1/2
6
-
-
9/32
.2812
15/64
4
1 1/2
1/2
6
.2531
.2840
19/64
.2969
9/32
4
1 1/2
1/2
6
-
-
5/16
.3125
9/32
4
1 1/2
1/2
6
.2841
.3150
21/64
.3281
9/32
4
1 1/2
5/8
6
-
-
11/32
.3438
9/32
4
1 1/2
5/8
6
.3151
.3470
23/64
.3594
5/16
4
1 3/4
5/8
7
-
-
3/8
.3750
5/16
4
1 3/4
5/8
7
.3471
.3780
25/64
.3906
5/16
4
1 3/4
5/8
7
-
-
13/32
.4062
5/16
4
1 3/4
5/8
7
.3781
.4090
27/64
.4219
3/8
4
1 3/4
5/8
7
-
-
7/16
.4375
3/8
4
1 3/4
5/8
7
.4091
.4410
29/64
.4531
3/8
4
1 3/4
5/8
7
-
-
15/32
.4688
3/8
4
1 3/4
5/8
7
.4411
.4720
31/64
.4844
7/16
6
2
5/8
8
-
-
1/2
.5000
7/16
6
2
5/8
8
.4721
.5030
33/64
.5156
7/16
6
2
5/8
8
-
-
17/32
.5312
7/16
6
2
5/8
8
.5031
.5340
35/64
.5469
7/16
6
2
5/8
8
-
-
9/16
.5625
7/16
6
2
5/8
8
.5341
.5660
37/64
.5781
7/16
6
2
5/8
8
-
-
19/32
.5938
7/16
6
2
5/8
8
.5661
.5970
39/64
.6094
9/16
6
2 1/4
5/8
9
-
-
5/8
.6250
9/16
6
2 1/4
5/8
9
.5971
.6280
41/64
.6406
9/16
6
2 1/4
5/8
9
-
-
21/32
.6562
9/16
6
2 1/4
5/8
9
.6281
.6590
43/64
.6719
9/16
6
2 1/4
5/8
9
-
-
11/16
.6875
9/16
6
2 1/4
5/8
9
.6591
.6910
45/64
.7031
9/16
6
2 1/4
5/8
9
-
-
23/32
.7188
9/16
6
2 1/4
5/8
9
.6911
.7220
47/64
.7344
5/8
6
2 1/2
3/4
9 1/2
-
-
3/4
.7500
5/8
6
2 1/2
3/4
9 1/2
.7221
.7530
49/64
.7656
5/8
6
2 1/2
3/4
9 1/2
-
-
25/32
.7812
5/8
6
2 1/2
3/4
9 1/2
.7531
.7840
51/64
.7969
5/8
6
2 1/2
3/4
9 1/2
-
-
13/16
.8125
5/8
6
2 1/2
3/4
9 1/2
.7841
.8160
53/64
.8281
5/8
6
2 1/2
3/4
9 1/2
-
-
27/32
.8438
5/8
6
2 1/2
3/4
9 1/2
.8161
.8470
55/64
.8594
3/4
6
2 5/8
3/4
10
-
-
7/8
.8750
3/4
6
2 5/8
3/4
10
.8471
.8780
57/64
.8906
3/4
6
2 5/8
3/4
10
-
-
29/32
.9062
3/4
6
2 5/8
3/4
10
.8781
.9090
59/64
.9219
3/4
8
2 5/8
3/4
10
-
-
15/16
.9375
3/4
8
2 5/8
3/4
10
.9091
.9410
61/64
.9531
3/4
8
2 5/8
3/4
10
-
-
31/32
.9688
3/4
8
2 5/8
3/4
10
.9411
.9720
63/64
.9844
7/8
8
2 3/4
3/4
10 1/2
-
-
1
1.0000
7/8
8
2 3/4
3/4
10 1/2
.9721
1.0030
1 1/16
1.0625
7/8
8
2 3/4
3/4
10 1/2
1.0031
1.0660
1 1/8
1.1250
7/8
8
2 7/8
7/8
11
1.0661
1.1280
1 3/16
1.1875
1
8
2 7/8
7/8
11
1.1281
1.1905
1 1/4
1.2500
1
8
3
7/8
11 1/2
1.1906
1.2530
1 5/16
1.3125
1
8
3
7/8
11 1/2
1.2531
1.3155
1 3/8
1.3750
1
8
3 1/4
7/8
12
1.3156
1.3780
1 7/16
1.4375
1 1/4
8
3 1/4
7/8
12
1.3781
1.4405
1 1/2
1.5000
1 1/4
8
3 1/2
7/8
12 1/2
1.4406
1.5030
1 9/16
1.5625
1 1/4
8
3 1/2
7/8
12 1/2
1.5031
1.5660
1 5/8
1.6250
1 1/4
8
3 3/4
7/8
13
1.5661
1.6280
1 11/16
1.6875
1 1/4
8
3 3/4
7/8
13
1.6281
1.6910
1 3/4
1.7500
1 1/4
10
4
7/8
13 1/2
1.6911
1.7530
1 13/16
1.8125
1 1/2
10
4
7/8
13 1/2
1.7531
1.8160
1 7/8
1.8750
1 1/2
10
4 1/4
7/8
14
1.8161
1.8780
1 15/16
1.9375
1 1/2
10
4 1/4
7/8
14
1.8781
1.9410
2
2.0000
1 1/2
12
4 1/4
7/8
14
1.9411
2.0030