The TITAN VALVE WHEEL LATCH WRENCH actually grips the rim of the wheel to prevent the wrench from slipping when opening and closing valves.
The special latching mechanism pivots freely around a bushing and rivet allowing the wrench to be placed on and taken off the valve wheel with ease.
The PETOL-TITAN Valve Wheel Latch Wrench is made from alloy steel for strength and durability.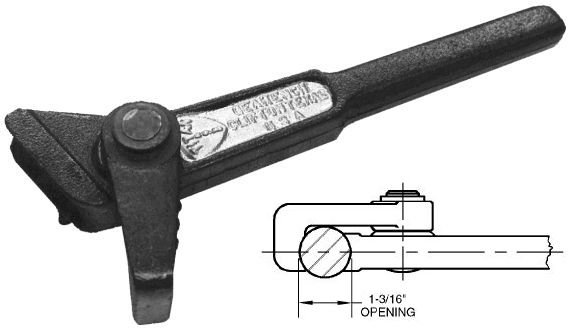 CATALOG
NO.

OPENING

LENGTH

WEIGHT
TIT.VWL1
1-3/16"
11-1/4"
3-1/2 lbs.
TO BE USED AS A HAND TOOL ONLY. DO NOT STRIKE, USE A "CHEATER", OR EXTEND HANDLE IN ANY WAY. FOLLOW OSHA, NATIONAL SAFETY COUNCIL, HAND TOOLS INSTITUTE, ETC., STANDARDS, SAFE PRACTICES & PROCEDURES.