Trefolex cutting compound
It's hot down here. Hundreds of degrees of heat. It's the heat that's produced by hard metal at thousands of r.p.m.s.
It's a place where thin oils break down, where liquids evaporate, where spray never get a chance. an unlubricated, unprotected edge begins to deteriorate fast. First if dulls, then it bakes, maybe chips, Leave it unprotected and it fails. When you're in the cutting tools business that means higher costs and lower productivity. This a no place for ordinary lubricants. This is Trefolex territory.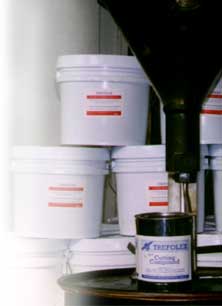 TREFOLEX is the compound that significantly increases tool life and thread quality.

* A Proven Performer
TREFOLEX leaves no pigtails, only super clean and easy cuts on the hardest materials. And it's backed by more than 50 years of experience and testing under the toughest conditions.

* Completely User Friendly
TREFOLEX is completely skin safe ,has no offensive odor, and meets all OSHA requirements.

* Unique Compound Formula
TREFOLEX is a compound, not a runny oil or evaporating spray. It works when you start your cut and melts as the heat builds up to continue working all the way through. TREFOLEX is the proven cutting compound when you're working
"on the cutting edge."
TREFOLEX is packaged in
TRE.250 1/4 lb. can
TRE1 1 lb. can

TRE2.5, 2-1/2 lb. tubs(4 per package) sold individually
TRE30, 30 lb. pails.
TRE55, 55-gallon drums-on request
---
* Try New Sulfur-Free CH Grade *(Stain free performance)
Suitable for all of your machining needs. Stain-free performance on Aluminum, Stainless Steel,Gold, Platinum, alloys and exotic metals. Specially formulated for today's precise drilling requirements, any residue rinses easily with hot water.
TRE2.5CH